We don´t always have all the horses that we have for sale on the site so don´t hasitate to ask if you are looking for something special.
Young promising riding-/ competition prospect with intresting bloodline.
Name:
Kólfur f. Lambanesi.....
Seldur/Sold
F: Kiljan f. Steinnesi
( 8,97 for gaits !!!
One of highest judged stallions in Iceland
). M: Alvara f.Hömluholti (7,83).

Level:
Medium-experienced riders.

Age
:
Born 2010

Color:
chestnut with a star


Description:
interesting project for medium to advanced riders. he is opening well up in tölt with nice movements and shows all gaits are promising. He looks good under the rider with nice leg movement and nice expression. His mother is a fourgaited horse out of the 1.pr.stallion Dynur f.Hvammi. His mother got as a four gaited mare 7,80 for riding abilities with for example 9 for canter. all other notes for gaits where 8 or over. Kólfur´s father is the highest judged Kolfinnur f.Kjarnholtum son Kiljan f.Steinnesi that got 8,97 for riding abilities.


Vel ættaður og geðgóður hestur. Efniviður í keppni-/reiðhest
Kolbeinn f.Hæli.
born 2005
Sold/Seldur/Verkauft
Fourgaited horse . Good riding horse for wide range of riders. Good looking and very nice to ride. He could be used for competition or/and as a family horse. Good to handle. High movements and good looking.

Have a look at the
Video
of Kolbeinn !!!

Color
: Bay

Level
: Kolbeinn fits intermediate riders to experienced riders.


Kolbeinn gæti hentað sem nemendahestur á Hóla, hestur fyrir knapa sem er að fara í knapamerkjakerfið, sem góður reiðhestur/ferðahestur eða keppnishestur. Kolbeinn er myndar hestur með góðar gangtegundir sem hentar fyrir meðalvanan knapa og uppúr.

We also have some young promising ones for sale
If you have some questions please Contact us for further information.

We also have some younger promising ones that might intrest you.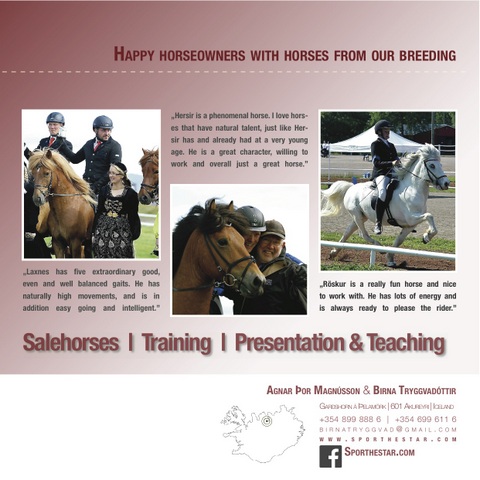 Pricerange/Verðflokkar

A 0 - 300.0000 ISK
B 300.000 - 600.000 ISK
C 600.000 - 1.000.000 ISK
D 800.000 - 1.500.000 ISK
E 1.000.000 - 1.500.000 ISK
F 1.500.000 - 2.000.000 ISK
G 2.000.000 - 3.000.000 ISK
H 3.000.000 + ISK